Local anesthesia
Lidocaine is commonly used for simple procedures. It's a local anesthesia that prevents pain and is used in combination with other anesthetics.
General anesthesia
When meeting with your surgeon, she may suggest general anesthesia for medical reasons or complexity of the considered maxillofacial surgery. The procedure will be done at CSSS de Hull.
Intravenous anesthesia
Specialized in oral and maxillofacial surgery, Dr. Théberge has the training and medical knowledge to safely administer intravenous sedation for your procedure and this, within the calm and comforting environment of her clinic. When an intravenous sedative is given, continuous monitoring is done throughout the whole procedure. This sedative will reduce your anxiety (anxiolysis) and make you unconscious. The administered medication is recognized in the medical field as being very safe. It is important to follow the instructions for an «asleep» surgical procedure.
It's simple, your well-being and safety are our top priorities throughout every stage: from the initial information meeting to your complete recovery.
Instructions for intravenous sedation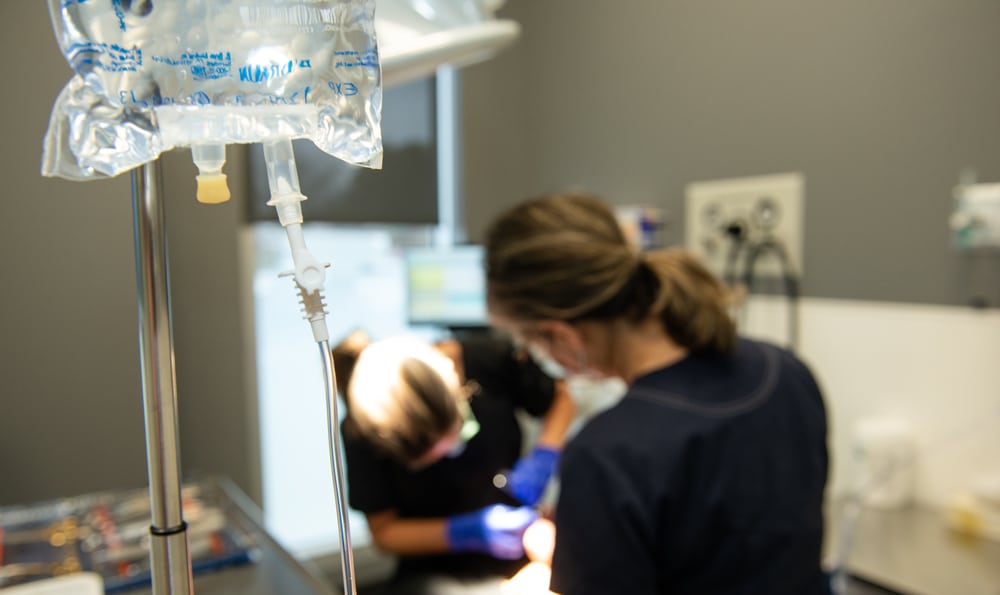 You must not drink (including water) or eat, for 8 hours before your procedure. A sip of water to take your oral medication will be allowed.
You must make sure that you have a responsible adult with you who can stay during your procedure and take you home. Someone must also stay with you after your procedure.
Do not drive for at least 24 hours after your procedure under sedation / anesthesia.
Wear loose, comfortable clothing for monitors and the administration of an intravenous injection.
If you are sick, have a cold, sore throat or abdominal pain, it is important to inform us before your procedure.
Contact lenses, jewelry and dentures must be removed before your procedure.
If you are taking oral medication, check with your surgeon if specific instructions apply. In most cases, medication should be taken on the day of your procedure. You should not tamper with your usual medication routine, unless Dr Théberge has made the request to do so.
24 hour emergency service for all our current patients!
Other services
The Evoro team is dedicated to your well-being. We offer many other services in order to maximize your dental health.
Impacted teeth exposure
Dental Extraction
Traumatology
Oral pathology
Masticatory disorders
3D x-ray
3D x-ray technology helps plan and optimize surgical procedures